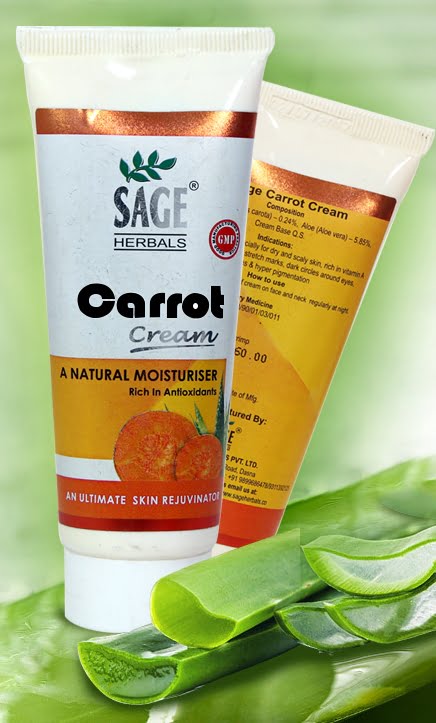 SAGE CARROT CREAM
SAGE CARROT CREAM
A natural moisturizer rich in antioxidants
Sage Herbals Carrot Cream is a perfect solution for younger looking skin. The cream deeply penetrates skin and provides Five essential benefits to keep worry ageing sign in to skin:
• Reduces fine lines and wrinkles
• Moisturizes skin
• Helps reduce age spots
• Removes stretch marks
• Remove dark circle & High Pigmentation
Key ingredients:
Aloe Vera : known for its many healing properties, is rich in polysaccharides and nutrients which exhibit antibacterial and antifungal action. It's hydrating, softening and intense moisturizing properties nourish the skin and keep it soft and supple all day.
Carrot Seed oil : It is high in antioxidants, it's a natural for any anti-aging skin formula. These components can help protect your skin from environmental assaults like UV rays, pollution, and stress. Rejuvenating skin cells and encouraging new growth is at the center of combating the appearance of aging. The high carotol content has also made the oil a good option for treating wounds and skin infections.
Directions for use:
Massage Sage Carrot cream gently over cleansed face twice a day. For best results, use regularly.
Sage Carrot Cream is dermatologically tested, non-comedogenic, free of mineral oils and parabens, and hypoallergenic.
Pack size:50g