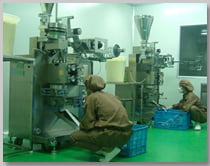 Facility
Our mill at Ghaziabad is sweet Manufacturing Practice (GMP) & ISO certified compliant with the foremost modern state of art facility to manufacture Herbal Health care Products & Cosmetics Products. Our Manufacturing unit is well equipped & have different sections for Manufacturing as per products.
Read More
Our Manufacturing Policy
To check raw material employed in the manufacturing before production & make sure that final product is of prescribed quality and free from microbial contamination as per BMR.The manufacturing process complies with SOPs as prescribed to keep up the standards.All the processes are regularly validated, calibrated, and upgraded as and when necessary.The manufactured products are released after they adhere to quality standards and Specifications.
Hey! Interested in working with Sage Herbals to grow your business. Contact Us Today!
Get In Touch
Let us know if you have any queries regarding our business. We usually reply within 48 hours of receiving a messsage.